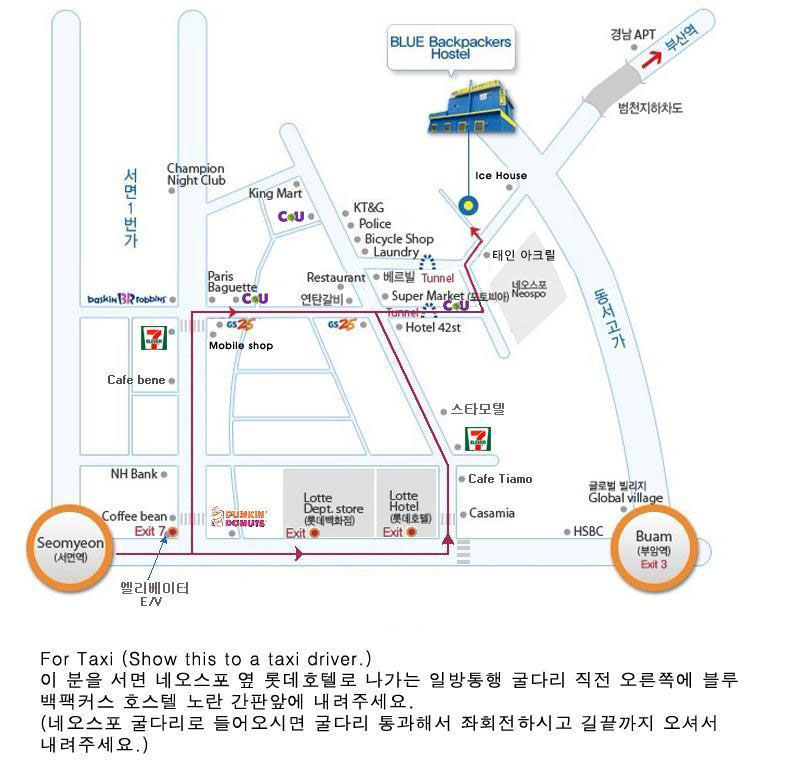 * How to get here?


From Seomyeon subway station (No.119/ No.219, intersection of 2 lines)


1. Come out to the entrance  of Lotte Dept. store and hotel.
2. Turn left just after Lotte Hotel.
3. Walk about 5 mins. until you see Hotel 42 st. on your right hand side.
4. Turn right  to the tunnel after Hotel 42 st.
5. Go through  the tunnel and you will see a CU convenience store on the left.
6. Turn left from the family mart and walk 2 mins. straight until the end of street.
7. There is a yellow signboard with our hostel name on the opposite side of the small  road you walk from.
8. You can see a blue colored 3 stories buidling in front of you.
 
* From Busan train station / Ferry terminal

By subway - Take line 1. way to Seomyeon/ Nopoodong and then get off at Seomyeon station.
 
* From Airport

By limousine bus - 30 mins. to Seomyeon Lotte hotel and then walk about 10 mins. following the map.
By local bus - Take bus No.201 to Seomyeon and get off at Lotte hotel and Department store and then walk 10mins.

By taxi - About 20-25 mins. to our hostel.